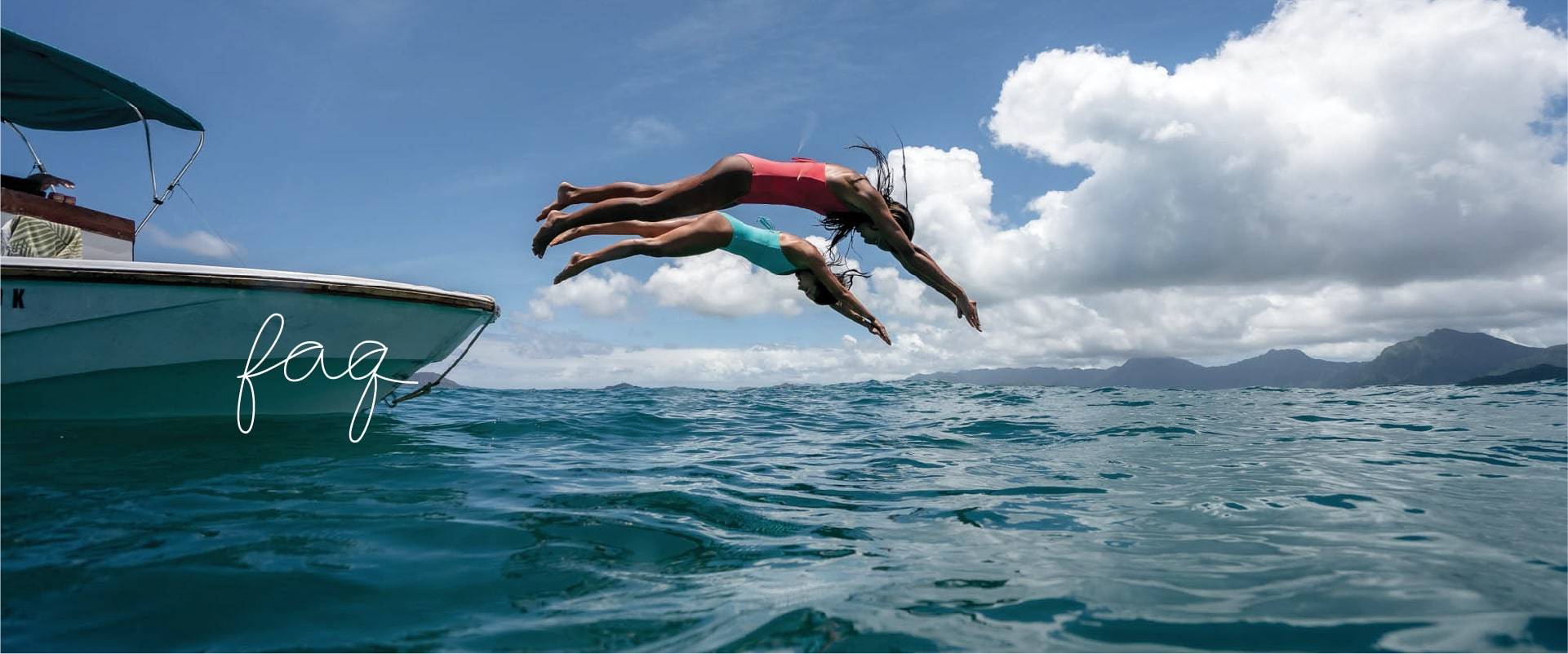 Q: What does Eidon mean? How do I even pronounce it?
A:
You're not alone to think this – we get this question all the time! The name comes directly from Poseidon, the ancient Greek mythology God of the sea. If you look at our logo, the E is representative of his trident. Mind. Blown. As for pronouncing Eidon, just say Poseidon, without the Pos! Easy as A, B, C.
FITS AND SIZING

Q: Are your bathing suits true to size?
A: From our own personal experiences and feedback from customers, our bathing suits are true to regular size. Of course, you can consult our fit guide at any time if you have doubts about which size to purchase. If you still have questions or concerns, feel free to send us an e-mail at info@eidonlife.com and we'll provide you with personalized information to help you get the right fit!
Q: What coverages do you offer for your bottoms?
A: Glad you asked! We offer different kinds for different preferences. Our range of bottoms go from cheeky to full coverage. Have a look at our fit guide which includes visuals to help you make your choice.
Q: What sizes do your models wear?
A: Our models wear a size S top and size XS-S bottom. Our D cup model wears a D-cup in size S-M and size S bottom. All of the models wear a size S one-piece.
CARE AND WASH
Q: How do I take care of my Eidon gear?
A: If you love your Eidon suit and want to keep it for as long as possible we suggest doing the following:
1. After each use, immediately rinse your swimsuit under cold water to get rid of all chlorine and salt water residue.
2. Hand wash gently using a mild soap or lingerie soap.
3. If using a washer, use cold water and a mild detergent without chlorine.
4. Leave to dry on a flat surface away from direct midday sunlight to prevent colors from fading.
COLLABORATIONS

Q: I'm active on social media (blog, Instagram, etc.) and want to collaborate with your brand! Who should I contact?
A: We always love collaborating with women who are passionate about what they do and love to share it with others. If you connect with our brand philosophy to Live, Travel, Surf, send us an e-mail at social@eidonlife.com !
Q: How can I become an ambassador for your brand?
A: First of all, thank you for thinking of us! We always love to collaborate with those who share our passion for adventure, the water, and swimsuits. If this speaks to you, please send an email to social@eidonlife.com and include details about your profile, your audience reach and why you think you'd be a great match for our brand. We will then get back to you directly if you are considered (please note that, due to high demand, we do not follow up on rejected applications). We look forward to hearing from you!
MEDIA INQUIRIES
For all media inquiries, e-mail press@eidonlife.com.
SHIPPING AND RETURNS
For all related questions, please see our Shipping & Returns page.
Don't see your question answered here? Send us an e-mail at info@eidonlife.com