Reading Time: 2 min 8 sec
Lindsay Takekawa embodies the spirit of Hawai'i from her head to her toes. O'ahu-born and currently residing on the island of Maui, Lindsay is a lifelong surfer who simply radiates gratitude for her relationship with the waves.
You only need to look as far as her Instagram page to take a mini-trip to Hawai'i, dotted with dazzling seascapes, lush tropical florals, and of course, a healthy number of action shots featuring Lindsay conquering her latest breaker. We caught up with this #EidonAdventurer to chat about the heart and soul of surf culture and beyond.
PS – You'll find a few quick footnotes sprinkled throughout this blog that define Hawaiian and surf-related words!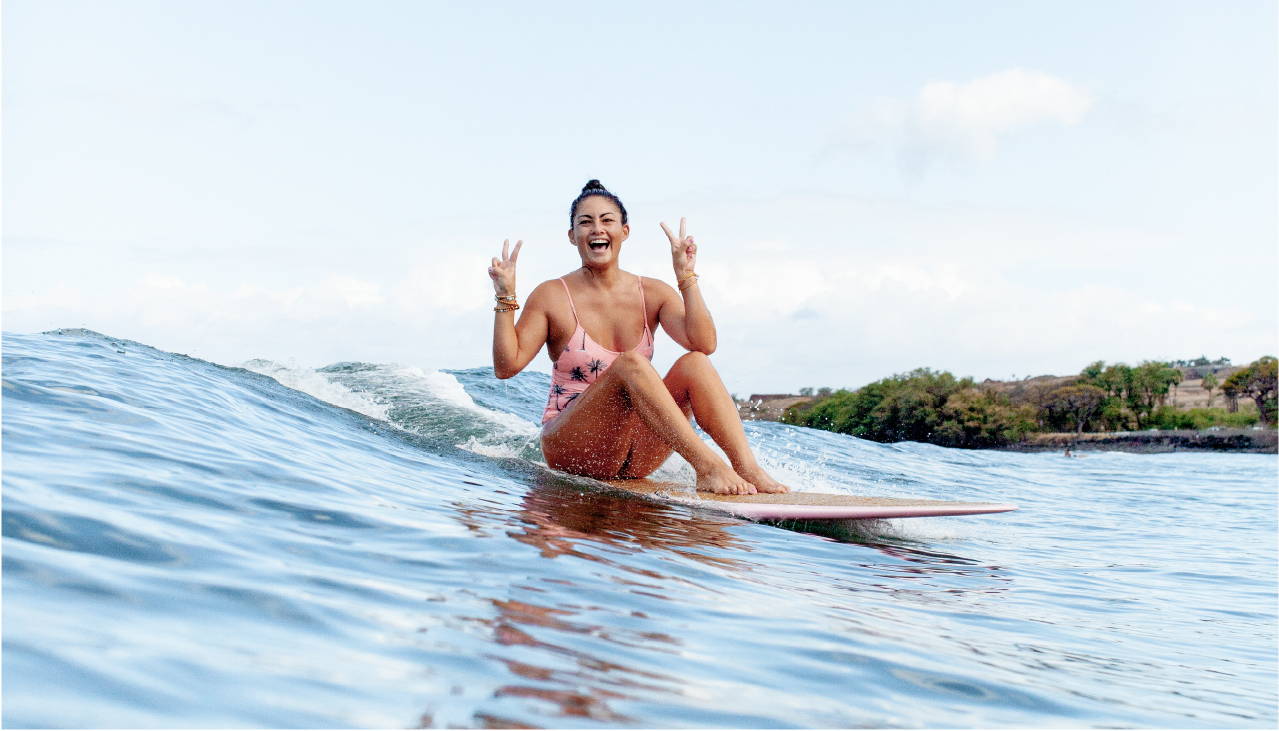 Eidon: What was it like growing up so close to surf culture?
Lindsay: I feel extremely blessed to have been given the opportunity to fall in love with surfing. Being able to go to world-famous surf spots like Waikīkī and grow up in those waves … nothing can compare! I do feel, however, that with this amazing blessing also comes plenty of kuleana1. A responsibility to malama2 this sacred craft for generations to come.
Eidon: You're a surfer, shortboarder, AND longboarder! Which came first? How do both cultures overlap and differ?
Lindsay: Kooky grom3 came first, that's for sure! I've always gravitated towards longboards, and after I moved to Maui in 2018, I started logging5. My whole world changed after that!!! Now my gaze is shifting towards shorter boards, which I'm excited but extremely nervous about!
There are big differences in the culture depending on where you surf, what you surf, who you surf with … so many variables to this craft. Respect and safety in the water and lineup is the one common factor.

Eidon: From being crowned Miss Valley Isle USA 2020 to becoming a pageant organizer yourself, how has pageant life shaped you as a person?
Lindsay: Pageantry allowed me the space to dive deeper into myself, my passions, and my contribution to society. I have a clearer vision now of what my future holds because of my commitment to myself and my authentic skill set.

Eidon: How do you think Hawaii might differ from the image people have in their minds? What is the "real" Hawaii like?
Lindsay: The image people paint of Hawai'i is usually very superficial, and most of the time, incorrect. Basically.. don't judge a book by it's cover! We are so much more than pineapple pizzas and açaí bowls. Hawai'i is so rich in culture and community that is often overlooked in favor of beautiful beaches and ono food.
Eidon: Tell us about your dream surf destination!
Lindsay: I have dreams of revisiting places I've fallen in love with already. One spot in particular is Tea Trees in Noosa, Australia. Although it's about a 15-minute trek with heavy logs in tow… nothing can compare to that fiery right and scenic coast. I can't wait to go back and explore, eat, surf, and see close friends!
Quick definitions
1. Kuleana, noun: responsibility. A reciprocal relationship between the person who is responsible, and the thing for which they are responsible.
2. Malama, verb: to take care of, tend, attend, care for, preserve, protect.
3. Kooky, adjective: describing someone who doesn't yet understand the social norms of surfing.
4. Grom, noun: short for "grommet." A young person who likes to surf and/or skateboard.
5. Logging, verb: the act of surfing on a "log,"a single fin board that is usually heavier, thicker, and wider than a classic longboard.
6: Ono, adjective: delicious.
Follow Lindsay's adventures on Instagram (@alohnaimlindsay).
If you shop online with us those days, you'll be making a difference for the ocean and environment.
Meet our youngest Eidon Adventurer: Carlie Eastwood! Get inspired by this hardworking grom's path towards becoming a pro-surfer in our latest one-on-one interview.
It's a trend you've probably seen on social media: the upside-down bikini top! Here's how to steal the look.