If you missed the first installment of this travel diary, click here to catch up.
DAY 3
In need of some saltwater therapy, Day 3 was an ode to the sun, sand, and sea. Lazing at the nearby bay of Playa Las Manchas, time seemed to pass idly by as we frolicked along the white sandy coast speckled with patches of black and in the tepid water of the Pacific. 🌊
Before long, we were off to explore its neighboring tide pools. Trapped between naturally jagged rocks, Mother Nature provided us with our own miniature pond while the sea rhythmically crashed behind us. The ambiance was more welcoming than any human-made pool could ever possibly be.

Last but definitely not least was our sunset surf session at Playa Grande. Guillermo, a very animated instructor, took our group to the rolling of small waves. The fun we had was unbiased as unfamiliarity with each other washed away with the tides, forever bonding us as sisters of the sea. 💙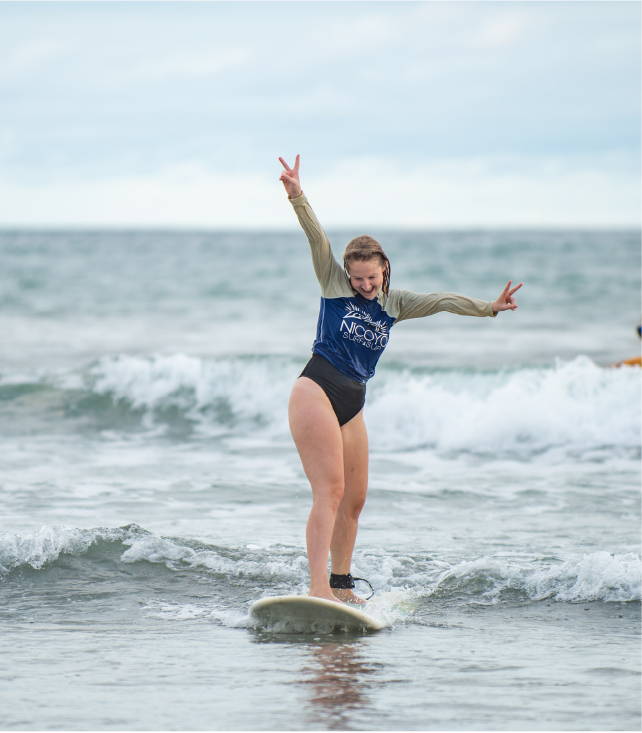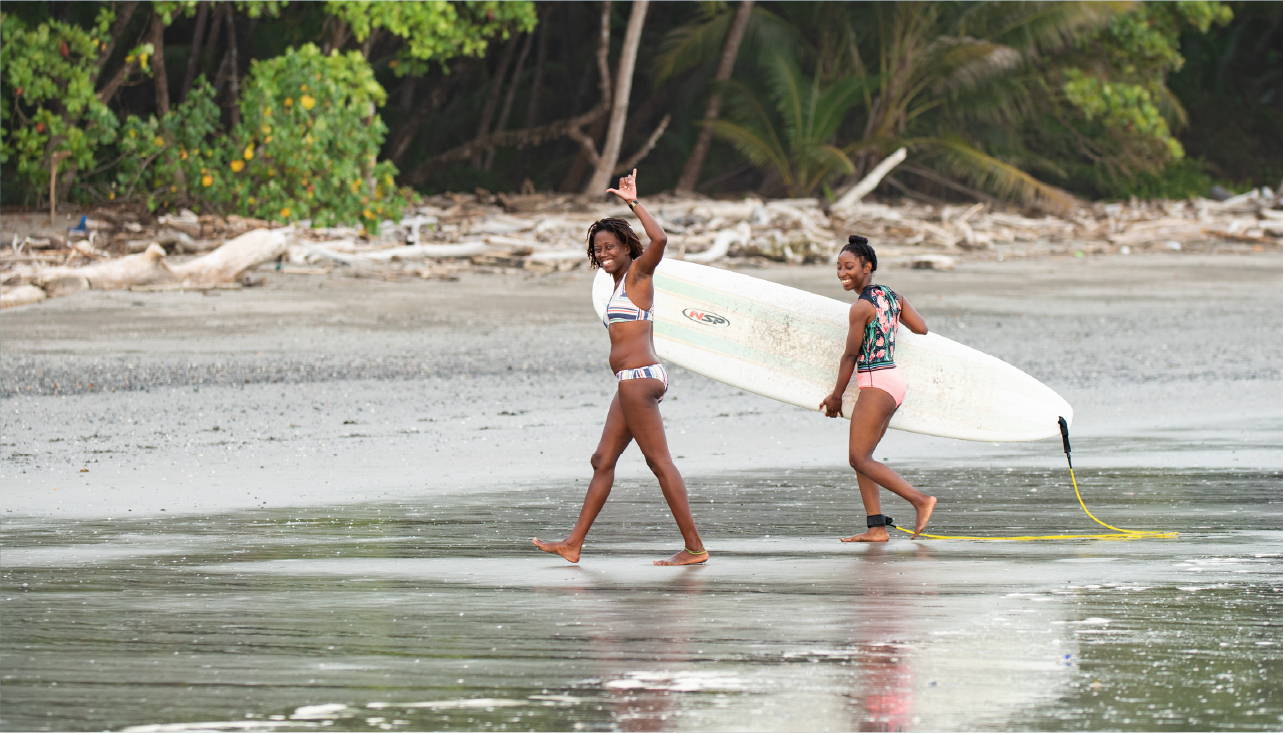 DAY 4

Another adventure-filled day awaited us halfway through our trip with a hike to the stunning El Chorro cliff-side waterfall, a lunch picnic on the deserted beach of Playa Escondida, a quick browse of the charming beach town of Santa Teresa, and sunset at the Mar Azul tide pools.
With rays of sunshine peering through the soaring trees, we hiked across loose and narrow dirt pathways, leaves, and twigs while singing along to Guns 'n Roses' "Welcome to the Jungle." After crossing creeks with slippery rocks, we finally made it to our destination. Cautiously climbing down the hillside, navigating sharp and moss-covered edges, we made our way to the falls' basin for a much-deserved splash-about. A dip in was a welcomed reprieve from the humidity of the jungle. 💦

Following a short trek over some beach boulders, we were at our intended lunch spot where we shared snacks of chips, guacamole, and sweet, local pineapples. Without another human in sight, Playa Escondida made us feel like we were the last people on Earth.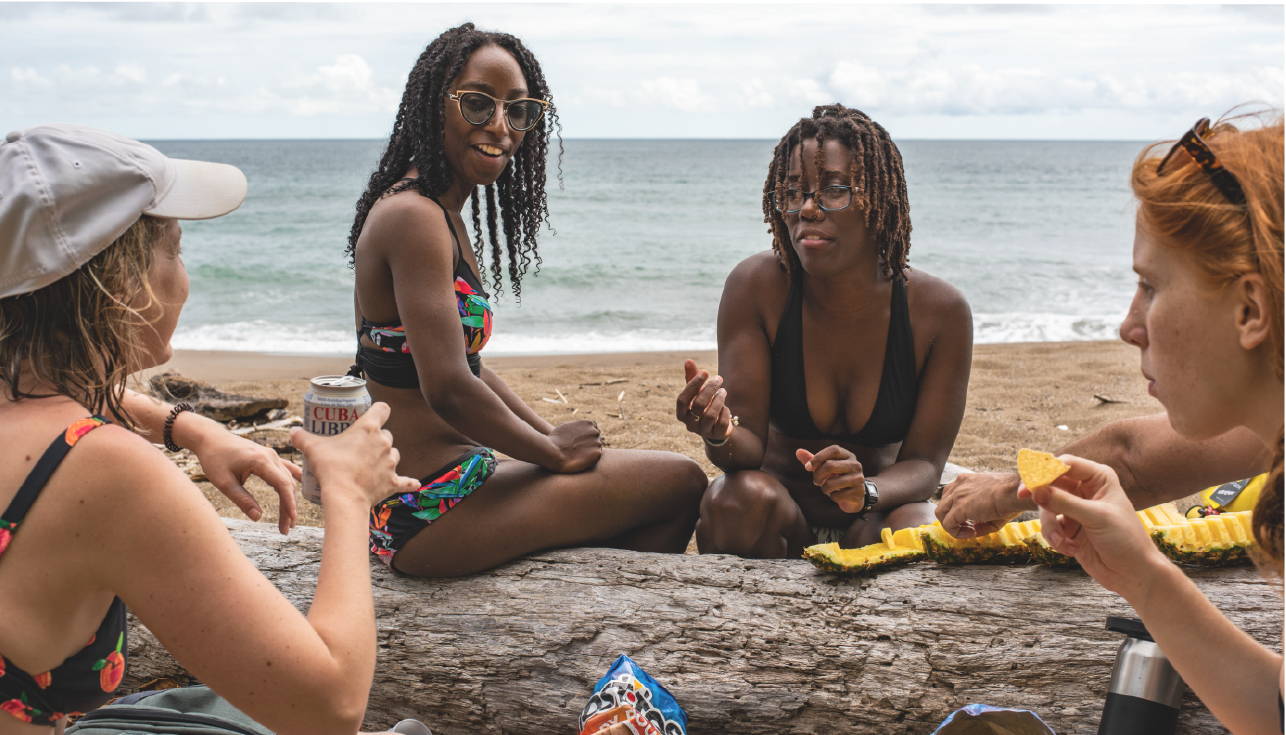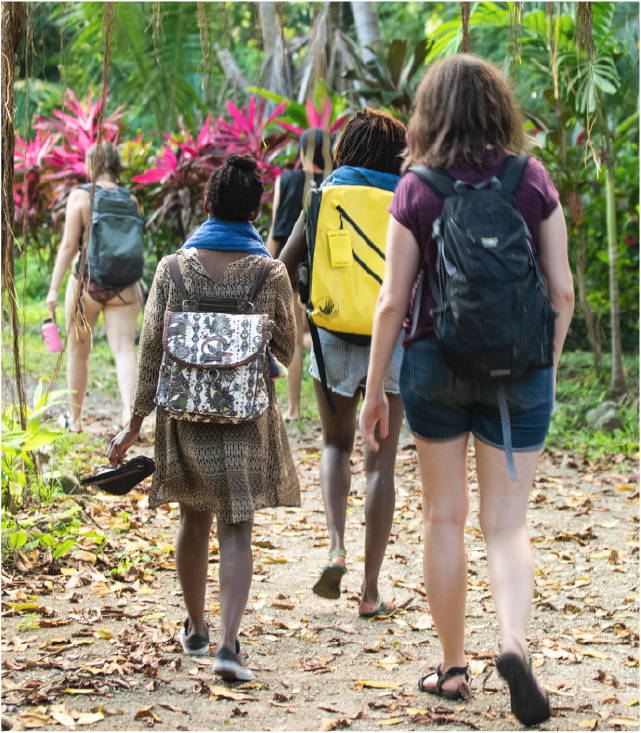 The surf town Santa Teresa, on the other hand, was populous in comparison and not overbearingly commercial as one would come to expect of a beach lifestyle community. With one main road housing local eateries and petite boutiques, we straggled along, peeping at everything to be seen while stuffing our faces with gourmet empanadas. 😋

DAY 5
Though weary from endless activities and the equatorial climate, we stayed on the move for our penultimate day in Costa Rica with more surf and a lunch picnic on Montezuma Beach.
Bobbing through shops in Montezuma, the colorful handmade textiles draping their exteriors really caught our attention. We pored over handicrafts created with semi-precious stones, gawked at street art that exalted the neighborhood's effortless beauty, and spent way too much time ogling at the cornucopia of gelato flavors offered at La Gelateria. This rural corner of Costa Rica had us city gals wrapped around its finger, eternally etched in our hearts and memories with great fondness. 💖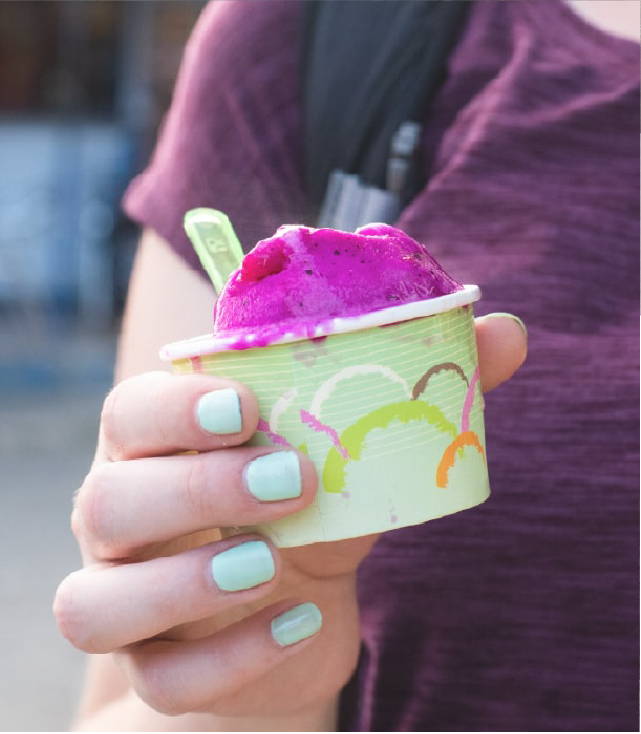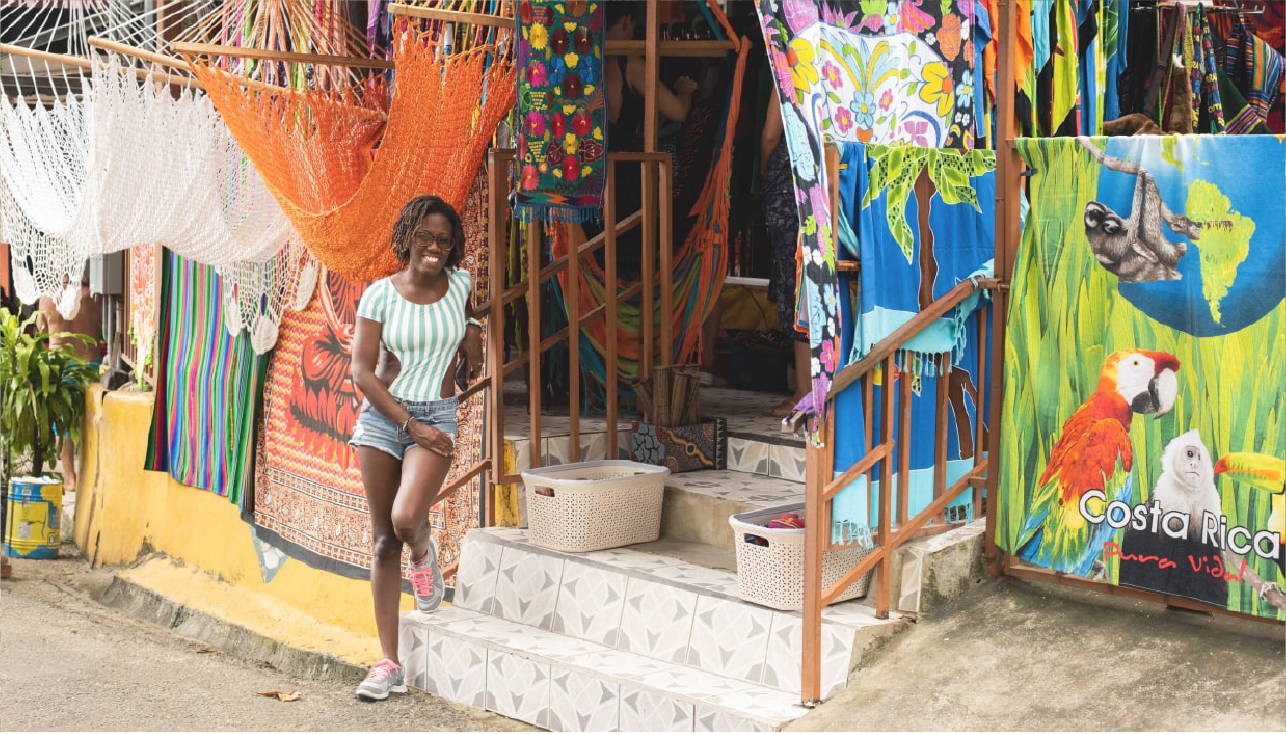 The best of this place was yet to come — our final mission: conquering the trail to the Montezuma waterfall. Maneuvering through shin-high rushing water while hopping from one wet but anchored rock to another, we scaled small hillsides by clinging to ropes fastened to tree limbs while the damp ground crumbled beneath our feet. We conquered this intermediate hike in about 40 minutes, some of us doing so in dresses. Who said hiking isn't feminine?! 😅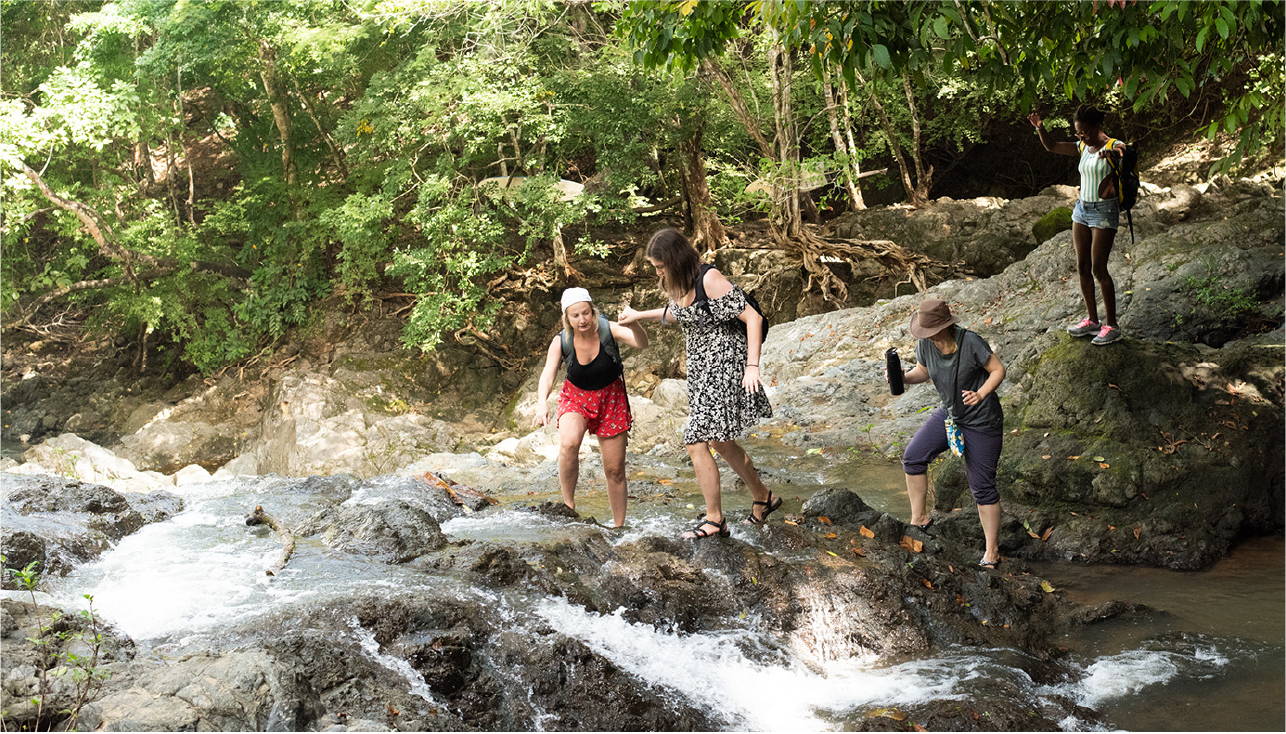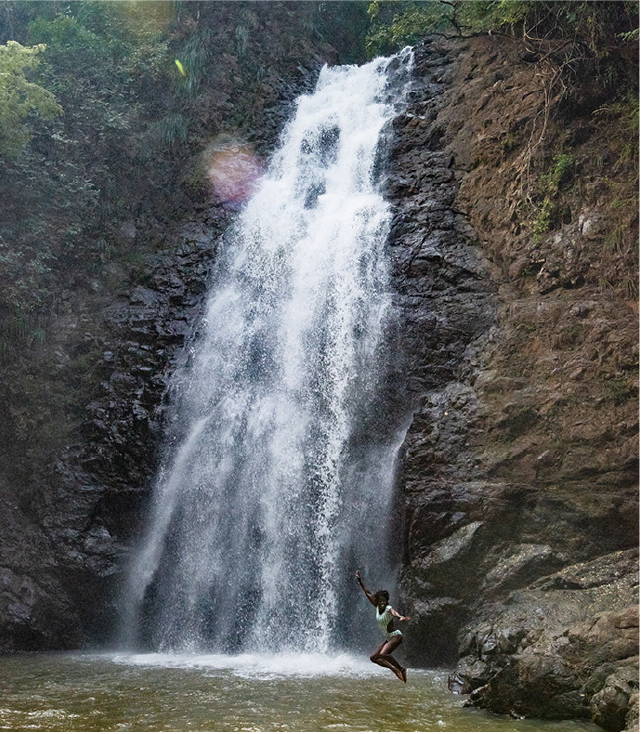 Reaping the fruits of our labor, we were greeted by a majestic cascade that felt straight out of a movie with freshwater tumbling from 50ft high to its deep base below and stray sprinkles forming miniature rainbows. The massive rocks surrounding it begged for us to jump off them. These were the things that adventuring dreams were made of.
On the cusp of sunset and the surety of our departure in just a few hours, we unwinded from the week we had at Vista de Olas Hotel and Restaurant. Sipping on perfectly mixed cocktails at their sleek swim-up bar, we gazed past the edge of the infinity pool and out to the horizon filled with coconut trees. We then treated ourselves to Spicy Adventure rolls at the most inconspicuous but dynamic sushi restaurant any of us had ever visited. The cherry on top: that fat slice of sumptuous chocolate cake from the local bakery, bought and eaten with guilt-free merit! 🤤
From eight-legged roommates (affectionately named Juanito) to impromptu ceviche stops by the beach, we embraced adventure and the unknown that came with it. By disconnecting from our urban lives, we became vulnerable as individuals but tenacious as we supported each other. With our souls and senses invigorated by nature, we learned what it meant to go with the flow and say "yes" to the explorer within.